The Interfaith Peace Project welcomes Susan Batterton as author of this month's Women's Day reflection. Susan serves as our Communication Director. She is a retired Clinical Laboratory Scientist who now enjoys travelling and volunteering her time and talents.
   If you would like to share your story in commemoration of International Women's Day, please contact us at [email protected]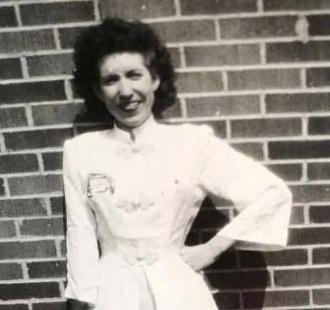 Edna Jacobs, a "Rosie" in 1942
     For our August 8th celebration of International Women's Day, in honor of all women who have worked for the advancement of the rights of women, I would like to turn our attention to "Rosie the Riveter" and my mother, Edna Jacobs, who actually was a real life "Rosie".
     Rosie the Riveter is a cultural icon who represents the women who took up the jobs formally held by men who went off to fight in the World Wars. These women worked in ordinance plants, factories and shipyards. They were actually recruited by the government through advertising campaigns featuring women like "Rosie the Riveter" and "Wendy the Welder". The propaganda included the idea that women had a patriotic duty to enter the workforce. It is said that more than six million women helped to build planes, bombs, tanks and other weapons.
     These women, who came through for the country during these years of World War, continued with great gusto what had begun in 1848 when the first women's rights convention was held in Seneca Falls, New York.  This work continued from 1848 to 1920, when women like Susan B. Anthony, Elizabeth Cady Stanton, Lucy Stone, Josephine St. Pierre, Mary Church Terrell, Anna Julia Cooper, Alice Paul, Lucy Burns, and Margaret Sanger led the way to obtain the right to vote for all women in the United States.
     In 1916, Jeanette Rankin of Montana became the first woman to be elected to the United States House of Representatives. In 1922, Rebecca Felton was appointed to the Senate to fill a temporary vacancy. In 1925 Nellie Tayloe Ross becomes the first woman governor in Wyoming. In 1932, Hattie Wyat Caraway, of Arkansas, became the first woman elected to the Senate. In 1964 Margaret Chase Smith (Republican Maine) became the first woman to seek the nomination for President of the United States from a major political party. In 1969, Shirley Chisholm of New York became the first African-American woman in Congress. And not until 1989 did we have the first Hispanic woman elected to congress: Ileana Ros-Lehtinen of Florida. The efforts of these and many other women culminated this year in the selection of the first female presidential nominee for a major party, Hillary Clinton.
     My family's "Rosie" graduated from Urbandale High School in Urbandale, Iowa, in 1941. She got her first job working at an ice cream company, Reeds Ice Cream, in Des Moines, Iowa. When the United States entered World War II, she went to work at the Ankeny Ordinance plant in Ankeny, Iowa and at Solar Aircraft in Des Moines, Iowa. At the Ankeny Ordinance Plant's peak, there were 19,000 people working three shifts to make 30 and 60 caliber machine gun bullets at a rate of approximately 8,000,000 per day. My mom was one of those shift workers. My mom also worked as an acetylene welder at Solar Aircraft building airplanes for the war effort. She truly was a 'Rosie the Riveter".
Upon discharge from the United States Army, my dad came home to a home and furnishings that my mom was able to purchase with the money she earned at her two "Rosie" jobs. And, once the war was over, my mom was free to continue to pursue her ambitions outside of the home, working in a man's world at a bread baking company, Colonial Bread. (At Colonial Bread, to the astonishment of all, she actually once used her welding skills to fix a broken part.) She also worked on the manufacturing line at Dental Eze Manufacturing, and in a Super Valu Grocery Warehouse.
     It was very unusual for a mother to hold these types of jobs in the 1950s and 1960s. I remember none of my classmates' mothers having jobs of any kind. But my mom was an independent woman who knew what she wanted and strove for it, never giving up into her 90s.
     I had a worthy role model to follow as I went off to college and earned my Bachelor of Science degree and then went to work in hospital clinical laboratories, retiring as a clinical lab manager. Many of my generation and my daughter's generation owe the pioneer "Rosies" for our ability to choose careers formerly not available to women.
     As we ponder the nomination of a woman to the office of president of these United States, may we all take a moment to reflect on the sacrifices made by previous generations of women who paved the way for us and for future generations. May our dream of equality for all come to fruition for all our daughters and granddaughters, for all women and men.